Dear Visitor,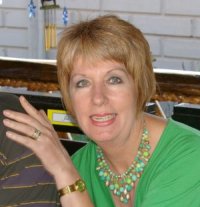 Thank you for visiting my website. If you would like to see various forms of my art, please click on the relevant BLUE buttons on the left of your screen.
The picture of me below was taken on a visit to Giverny, France, home of one of the great Impressionist painters, Claude Monet. I draw a great deal of inspiration from the Impressionists, as you will see when browsing through my website.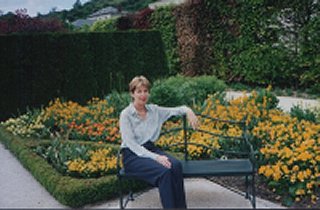 After painting on a part time basis for 13 years, I gave up a financial career in 1995 to pursue my passion - ART!! My painting career was launched with a very successful solo exhibition in November 1995 and I have since hosted a further eight solo exhibitions in 1997, 1998, 2001, 2003, 2004, 2007, 2011 and 2012. My work is also shown in numerous group exhibitions.
I enjoy working in various media, including oils, acrylics, pastels and water colours and with so much beauty around us, I am inspired to paint wild life, landscapes, still life's, floral studies, nudes and even abstract works.
I am often commissioned to paint for corporate and private collections and enjoy the challenge of creating a painting exclusively for the client. Several of my works have been bought by visitors from America, Canada, the U.K. and Australia.
Please take time to browse through my website and share with me the joy I have found in painting .......
Click the button above to be subscribed to my mailing list. Frames capable browser required - Just Press the button ONCE!
---
Estelle Botha
P O Box 5021, Weltevreden Park 1715, South Africa
Phone and Fax : (+2711) 679-1868

e-mail: estelle@eb-art.com

Copyright© Estelle Botha. All Rights Reserved